The Amrop Digital Interviews: David Bell, UK
"A digital leader must be comfortable with ambiguity."
David Bell is a Partner at Amrop's UK office and a member of Amrop's Global Digital Practice.
We spoke to him about his work with investor-backed technology businesses, the leadership mindset in the tech sector and the highly collaborative corporate culture at Amrop.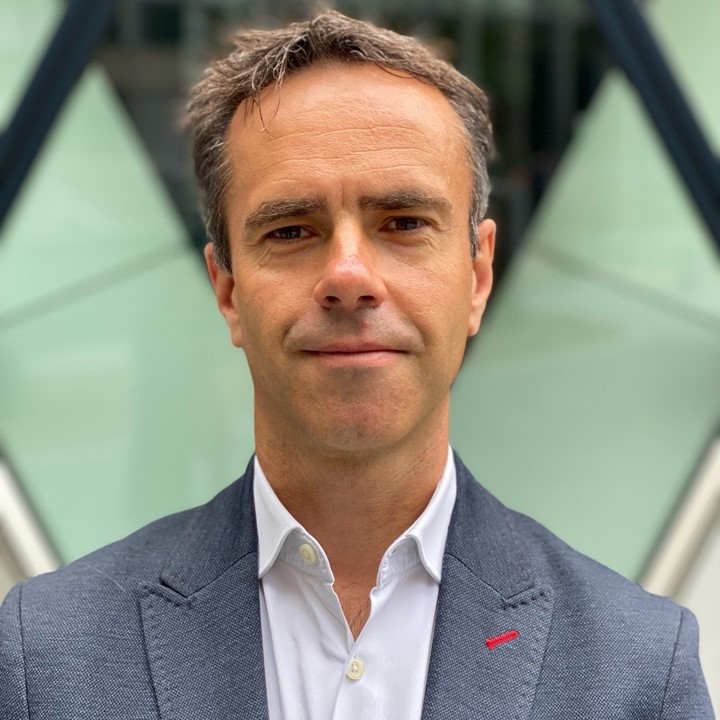 You have been with Amrop for over nine months now but have wide experience in the Executive Search field prior to joining the company. Can you walk us through that journey in the industry and tell a bit about your first impressions working with Amrop?
I've been in executive search for 14 years: at first, my focus was the pharmaceuticals industry, but then I moved over to Healthtech and then the wider technology and digital sector. Initially I worked for a large global corporate recruitment firm, after which I moved on to work with a couple of more specialized boutique search firms. One of the last businesses I worked with was small and very entrepreneurial: there were only five of us with myself and another partner running the organization. I really enjoyed it because of how entrepreneurial it was – since I was part of the business ownership and leadership, I was able to make all the decisions and move more dynamically.
This is what I particularly like about working with Amrop - it offers the blend of the local business, where you get to make your own decisions, and the presence of the global network, which enables you to work internationally. That's very important to me, because I didn't want to go back and work for a huge and very decentralized business, where you usually miss out on the cross-border collaborations. Nowadays lots of the integrated large search firms talk about working more collaboratively, but very often it's not really the case. There is a sense of "this is my project" and "this is my fee" around collaborations, but what really drew me to Amrop was that the process truly is cohesive.
In the months that I've been with Amrop I've already won an assignment with an international company based in Poland, which, as a small UK business, we would otherwise not get the opportunity to pitch for, and I'm likewise working on projects with colleagues in the US and Sweden. With Amrop it's possible to find opportunities in different parts of the globe.
You've been working with clients in the technology sector for quite some years now – is that still your primary focus at Amrop too?
I'm fully technology-sector focussed. I came into executive search through the pharmaceutical industry, which led me to the health care sector, after which I focused on the wider aspects of technology. For the last six years I've focused only on software technology and have been working more and more with private equity and investor-backed software technology businesses, rather than only larger corporations.
I find that it's very balanced at Amrop: you get to work with the large, international clients on the global agreements, which are great for ongoing relationships and business, but in the UK, I tend to work mainly with private equity businesses and portfolio companies, which I can help with their technology leadership needs (CEO, CTO, CDO, CISO etc).
Can you give us a bit more insight in the types of projects you're currently working with?
I'm working, for example, with a data analytics consulting business (CEO) and with a private equity-backed satellite communications infrastructure business (CEO) as well as several fintech businesses looking to accelerate their digital transformations (CDO and CTO). I'm also searching for a Head of Sales and Marketing for a fibre-to-premises broadband business Looking at all that I can say that there's a lot of demand around digitalisation and data, particularly the commercialisation and securitisation of data, which has to do with the exponential growth of data globally.
Your work is primarily in the tech and digital sector, but it's also mainly related to the investors' side of the business. What are the specific challenges of this combination?
The understanding of technology is undeniably crucial, but, since I'm working more on the investors' side, it is also crucial to understand how the private equity world works and what the challenges are that the investor is facing. The relationship between investors and founders can be quite complicated, especially when it comes to bringing in new people; it requires a deep understanding of what everyone is trying to achieve. Founders often want to ensure the longevity and growth of their business while investors want to maximise their returns. These are not mutually exclusive but they do need different approaches.
When you're looking for people in these kinds of fields, there is rarely a square peg in a square hole. One must try and identify businesses where similar or analogous work has been done, and normally it means considering candidates from other technology areas and different types of business. As a result the conversations I get to have with clients when we think about candidates are quite challenging and exciting. For example, you might have someone's CV and background, which on paper might look completely unrelated to the task at hand, but if you really understand the business processes, you get a chance to explain to the client what the candidate has done and how this applies to their needs. It's great to have these consultative conversations with CEOs and investors and arrive at a shared agreement and understanding.
Can you generalize and say what qualities are essential for the leadership positions in the tech and digital sector?
A lot of it relates, of course, to relevant experience and expertise. When you're looking for CEOs or other C-suite leaders for investor-backed tech businesses, the investors often want to see candidates who've been through the whole investment cycle: people who have built the business, scaled the business, and sold the business. They need to have this type of business understanding coupled with the technology understanding. A lot of it is software-driven and ideas-driven, as well as very fast-moving; things, which didn't even conceptually exist before are being created, applications are being made, things are developed in the cloud. It requires a different mindset.
Can you define this mindset?
It has to be very entrepreneurial. One must be comfortable with ambiguity because you just don't know yet...for example, 99% of people simply don't understand and don't have experience with blockchain, but if you need a person for such an organization, you will need to look for them in the financial services; you will need someone who's built and scaled fin-tech business, although they very likely wouldn't have worked with blockchain or cryptocurrency. But they've done something similar – they've successfully dealt with a situation where they've not known what's going to happen, they've managed to get through it, build the business and sell it or scale it. This is potentially how the mindset differs from one which might be prevalent in other areas.
You are, of course, also a member of Amrop's Global Digital practice. What, in your view, are the central benefits of such a group collaboration?
The practice group setting really works, and, I think, it is even more so because technology so clearly encompasses everything these days. We might be discussing subsectors, like, telecoms, application development or e-commerce, but, apart from the particular technology, the issues are very much the same, so we're very much on the same page. The fortnightly group meetings help create ideas and opportunities; we come together, we focus on the subsectors, and we create a story, because executive search is undeniably also about storytelling.
There are also cross-border collaborations. I mentioned earlier the search for the CEO for the data analytics business – on this project I'm collaborating with Tom Figueroa, one of our US Partners, which is great, since each of us is activating the networks in our countries for the project.
Do you offer other services next to executive search to the clients in the digital and technology sectors?
As a UK business we're doing a lot more in the leadership advisory and board services. There's a lot of traction with businesses on every level, so, whether they're investor-backed businesses and funds or corporate businesses, they tend to primarily reach out to us for leadership advisory services, assessment, succession planning or board advisory. At the same time this often leads also to executive recruitment.
For example, we just signed a contract with a private-equity fund in London to do a board assessment for one of their portfolio businesses. They're looking to replace two of the executives on the executive leadership team, and we'll do both the assessments and the recruitment, and once we've done the recruitment, we will go back and do a team assessment on the whole business to show them what's working and what's not working, so to speak. All in all, it is a huge project for our client as they transform the business, and it will involve four partners in the UK across Technology (me, looking for the Chief Digital Officer) Financial Services, Leadership Advisory and Board Services.
That's another great thing about Amrop and being part of the Digital practice. Leadership assessment is not sector-specific, but had I not been part of the Digital practice group, I wouldn't have found out, for example, about the leadership assessment projects for PE funds and their portfolio businesses carried out by colleagues in the Netherlands, who were more than happy to share their knowledge. There are lots of great things going on in Amrop – you just need to find out about them. People are very helpful and there's a real collaborative mindset in place – we're all paying it forward. It's really an Amrop thing – to be visible internally and then go to the market externally with the visible or invisible help of others.