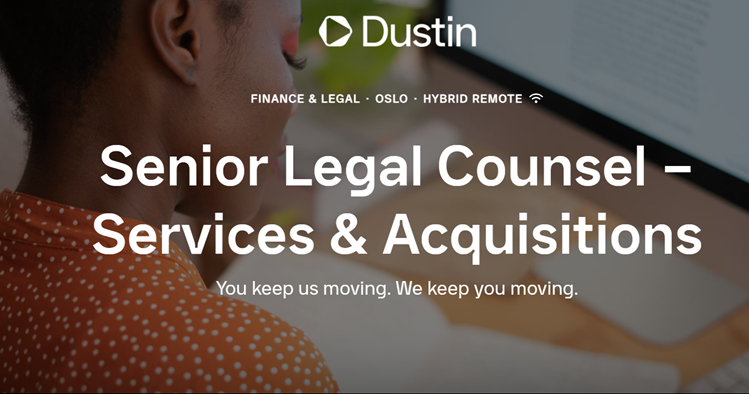 Dustin is a leading online based IT partner in the Nordics and the Benelux, with revenue close to SEK 16 billion and about 2 400 employees. We help our customers to stay in the forefront by providing them with the right IT solution for their needs, offering approximately 280 000 products with related services to the market. Dustin is listed on Nasdaq Stockholm and has headquarters in Nacka Strand, just outside central Stockholm.
Dustin helps our customers to be at the forefront, regardless of whether they need to find the right service, product, or a combination of the two. We are broadening our offering, developing, striving onwards, and adopting a circular approach. This is how we support our customers in their everyday situations and drive the industry forwards.
Senior Legal Counsel – Services & Acquisitions
Senior Legal Counsel – Services & Acquisitions
You keep us moving. We keep you moving.
Your ambition and drive to grow is what keeps us and society moving. Together we shape the future.
For business. For work. For life. For you.
We are ready. Are you?
We are now looking for the next star in Dustin's Legal Team. As our new Senior Legal Counsel – Services & Acquisitions, you will have the opportunity to develop and grow our service business as well as take an active part in our M&A processes. You will work closely with our MDs of acquired companies, our M&A and integration teams, as well as our service product managers and legal team.
Being a part of our team, you get the opportunity to develop the legal function in a fast-growing company where we keep things moving. You also get the chance to grow both personally and as legal counsel in a dynamic and multicultural environment with operations in six countries.The essence of the role is to enable our service business  to take the right decisions at the right time. You will be expected to merge business expectations with legal requirements into an easy to find, use and understand product, process, or contract.
The candidates we are looking for have a significant personal drive with a positive and inspiring attitude and must be motivated by cooperation and teamwork: at Dustin we win as a team! You have excellent proven communication skills in order to lead, clarify, build relations and convince in a large organization across borders and locations. You must be structured and pragmatic and have a good business understanding.
At Dustin, we live by our values and expect you to do the same: "Strive to improve", "Keep it simple", "Live up to promise", "Challenge all cost", "Win as a team".
To be successful in this role we believe you should have
Extensive experience in commercial agreements and IT

5 + years of relevant work experience from a corporate law firm and/or inhouse position

Experience in M&A is an advantage

LLM from any of the Nordic countries

Fluency in English and Norwegian
The position is located at the office in Oslo. You will be part of our Group Legal Team and report to Group General Counsel at Dustin Group.
To apply for this position, please go to the following link: Senior Legal Counsel – Services & Acquisitions - Dustin Norway AS
For more information, do not hesitate to contact Jarle Trandokken (cell phone +47 900 46 689), Partner in Amrop Delphi.