A High Rise | An Interview with Christine Baldwin, Infinitus
The world has been forever changed by COVID-19, and the commercial real estate sector is facing an unprecedented threat. The pandemic has forced us all to work in new ways, throwing into question the true value of a 5 day office-based working week.
Originally recorded as an episode of the Amrop UK Coffee First podcast series.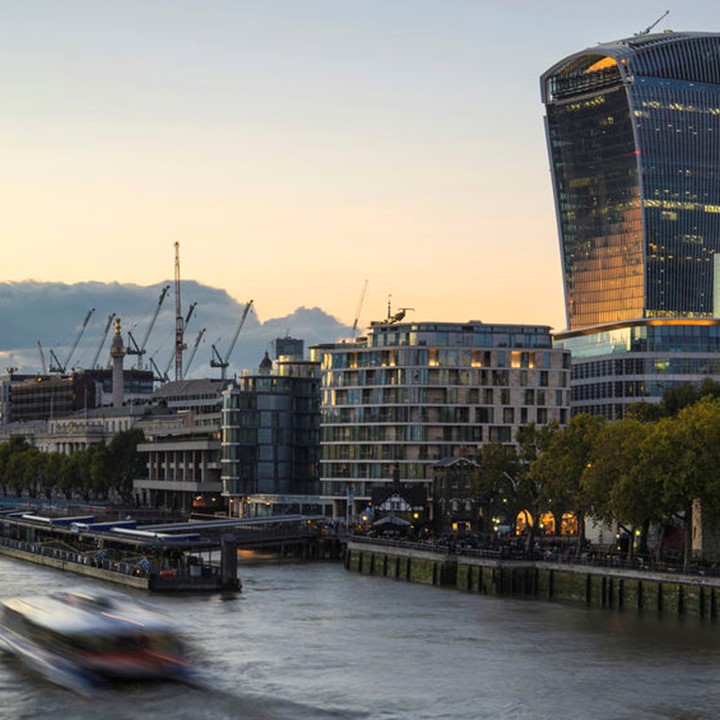 Key Messages
Christine Baldwin is the recently appointed UK director for Infinitus, the property investment arm of the Lee Kum Kee Health Products Group (LKK HPG) -  a division of the Chinese food conglomerate that invented the globally-consumed Oyster sauce. In her current role, Christine manages the iconic Walkie Talkie building in the City of London, home to 5,500 occupants and some of the world's largest insurance companies.
Christine shared with Amrop's Adam Saunders her view on the changing landscape of real estate, and how her leadership journey has shaped her core leadership values: "I've spent a lifetime observing leaders to identify the people I would like to be like," she says. "I try to always continue learning, and living the leadership values that I find important. The simplest, and to me the most important rule, is to live the behaviours you would like to see in others. As a leader our actions are closely scrutinised.
Another key principle is always trying to be the calmest, most rational person in the room. I once observed a very humble admission from a senior individual where they admitted to their team that in losing their temper they had let the entire team down. Whilst it can be tempting to use your position to exert power and influence, being unshakable in demonstrating the values you want to see in others is key. It is important to be seen as someone acting on the level, stick to what you know to be the absolute right and moral thing to do. Remaining calm and rational is another brilliant basic in leadership you can't deviate from them.
Leadership also means being truly able to trust, and to let other people do their own job. Through my career I have seen so much disruption and lack of effectiveness caused by micromanagement and a lack of trust generally. That being said we should remember that trust is a two-way street. Being authentic, rather than just doing an imitation of "correct" leadership behaviours and misrepresenting yourself will engender trust, creating teams that work well towards achieving the same goals."
Key Messages
Demonstrate the behaviours you wish to see in others: As a leader, the most important action you can take is to model the behaviours you wish to see in others. Being authentic with, and trusting in your team is a key to success.
A new philosophy: In joining Infinitus Christine has begun practicing a new leadership philosophy, the Autopilot Leadership Model (ALM). The ALM is a blend of Eastern and Western leadership values, focussed on establishing a self sustaining, happy team.
A "happiness index" : Christine started a new role in an exceptionally challenging environment. Creating bonds, and trust, with a new team has been a hugely rewarding challenge. Utilising daily zoom calls, and rating their happiness daily has enabled the team to stay human, and connected.
Remaining human: Whilst navigating the transition to home working it was key to Christine that she encourage her team to be frank with the challenges, and to remain human by acknowledging the logistical, operational and mental drawbacks encountered through the pandemic. Creating a spirit of openness enabled her team to communicate the tools and support needed to succeed.
The road back to the office: Managing a return to work for 5,500 tenants has been no slight task. Through regular communication with clients, consideration of the "new" commute, as well as government-mandated safety guidelines Christine has created a safe working environment ready for all clients seeking a move back into the office.
The new office: Our behaviours and approach to office-based work will have fundamentally changed through the pandemic. Christine believes the desire to work together collaboratively in an office will never diminish. However, we will be more open to completing individual work at home, creating a more enriched  personal life as a result.
Communication is key: Communicating your own message and listening hold equal merit and are valuable tools in leadership. These are skills developed with time, and differ with each individual you are communicating with. Communication is key for anybody that wants to work efficiently, and effectively in life.
Looking back, and forward: To those in the early stages of their career: worry less and do not miss the opportunity to put your ideas forward. Looking onward, Christine is focussed on driving the Infinitus UK assets, and hopes to instil strong leadership values that set up a self-sufficient team.
----------------------------
Originally recorded as an episode of the Amrop UK Coffee First podcast series. Listen to all episodes here:
Apple Podcasts
https://podcasts.apple.com/us/podcast/coffee-first/id1518315898?ign-mpt=uo%3D4
Spotify
https://open.spotify.com/show/7Kd81fea1gPSuEo9OihL97
Audioboom