I Am My Biggest Project: New Horizons For Executives - Chapter 4
A career is just one part of life, one of its many roles. And we know that life is rarely a freeway without bends, bumps, or obstacles - it's a winding and complicated road. The important thing is the resilience that gives us the courage to fight adversity and continue our journey.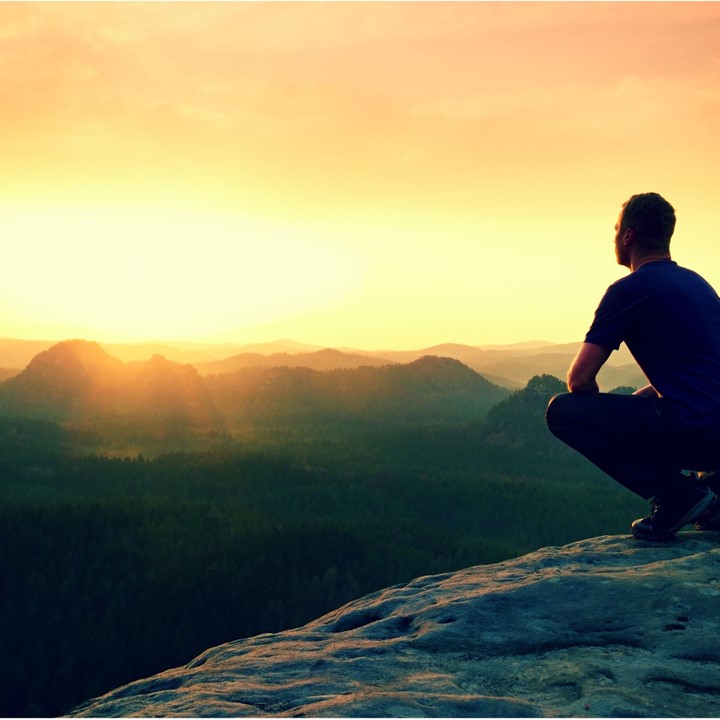 Crises and setbacks
Resilience is the ability to endure without falling apart - an elevated resistence to frustration and a spirit of self-sacrifice. Resilience also pre-supposes a vision of the future, a sense of mission. Resilient people believe it's worthwhile engaging in the here and now, with the stoicism to achieve less immediate outcomes.
During our careers, there are moments of discontinuity. All of a sudden, we are disoriented, lost in our own lives. Global, sectoral, or other crises closer to home knock us off course and damage our self-esteem. Without warning, the worst happens. We have unsolicited time on our hands. In our own eyes at least, we're unemployable, unable to meet our own needs, let alone the needs of the people who depend on us. When suddenly we fall out of frame, unemployed or bankrupt, our world collapses. All our landmarks disappear. Our existence is totally de-structured. As in any major crisis of life, bereavement, divorce or other, the ground beneath our feet seems to vanish into thin air.
The most important thing is not to allow ourselves to be destroyed. Not to lose our self-esteem.
As always in very difficult moments, our entourage wishes us strength and courage – qualities we need to dig deep to find. More, we must be able to rediscover and reinvent ourselves - to believe that we are capable of far more than what we have been able to do so far.
Restructuring and restarting
Alfonso was a leader in a highly-respected multinational. He was a trendsetter in his domain, happy and fulfilled. And then came a drastic change at corporate headquarters: a merger and strategic restructuring. The executive committees of each subsidiary were reviewed to create a new company adapted to the new shareholder- and strategic framework.
Alfonso was not selected to remain. Nine months on, he had still achieved nothing. His sector had developed out of all recognition. Comparable positions were either taken, or beyond his reach. However, he reacted positively, using his redundancy payout to become a franchisee in the retail division of his previous business.
Today, Alfonso has a good life. For sure, he misses the information sharing and the sense of always being on top of the news which were facets of his former role in the multinational. On the other hand, he likes having total control over his actions, to feel the reins of the business in his hands.
Many executives have shared positive experiences with me. "Rebirth out of the ashes" really is within all our reach. It demands a focus on the essential, on what we truly are, and on re-building our self-esteem.
In this way, step by step, with tenacity, determination, (and a healthy dose of humility), we can pursue the challenging path of personal or professional restructuring – even if this means repositioning ourselves and readjusting to a totally different reality and therefore our concept of self-realization.
Promotion, stagnation and demotion
If all goes well, professional growth will put us in line for promotion. As a rule, (if we're not promoted beyond our ability), a promotion is a smooth and joyful transition. The important thing is to keep our integrity intact, maintaining a degree of humility, so that our entourage accepts us in our new role.
However, as professional life goes on, we may also feel that we should have evolved more by now, and that this isn't happening. Why? Subversive reactions, going on literal or metaphorical strike, disengaging, a general lack of commitment – these are exactly the behaviors most likely to harm our image in the eyes of critical decision-makers, blocking the progression we're looking for. Should there be any hesitation surrounding our promotion, we justify it.
What I advise is to resist the temptation to check out, to maintain our all-important resilience, cultivating the conditions for that promotion moment and maximizing its chances. Even when there will be no place for us in a particular group, we should still be the best possible version of ourselves, and leave a positive mark.
Claudia was a high-performing Marketing Manager in a leading consumer company. She led a team of Product Managers. Then globalization wrought massive change in Claudia's organization. Several divisions of three European structures were merged, eliminating a number of functions.
Claudia was offered a position one level below her previous one: a regional product management role without team management, absorption into a broader group of shared responsibility, and limited autonomy. Claudia decided, on reflection, to accept. Now her work has a broader dimension: to be part of an international group, to learn new realities, understand different cultures and deal with a bigger volume of business. On the other hand, instead of listening to opinions and having the power to decide, Claudia now waits for other people's decisions. However, she has gained so much life experience that she still feels the demotion was worth accepting.
What can we learn here? Look forward to the new opportunity, even though you know it won't be easy! Claudia is one of a group of twenty adaptable people back in line for promotion. In the meantime, learn as much as possible, get ready to evolve.
Being fit for What's Next
Sports coaches talk about the results their trainees can achieve: self-confidence, differentiating abilities, increased effort and performance, perseverance. This example also applies to re-starting our career.
Doing this takes self-knowledge and wisdom. Understanding how well our knowledge and track record really serve the domain we envisage. Recognizing the distinct skills we can present to our next organization. For example, multiculturalism, analytical reasoning or creative and disruptive ability. You can find more about this in my article, Personal Marketing.
And yet I have no doubt that the majority of senior executives I meet possess profile characteristics whose potential they have not yet fully leveraged.
Joana studied civil engineering, developing her career with post-graduate studies, working in an important project office. But she felt unfulfilled. Ever interested in literature, and poetry in particular, she joined a cultural group. And this was the starter gun for a big change. Although Joana continued as a design engineer, she started to write. Eventually she left her engineering post and joined a publishing house. Finally she was invited to be a columnist in a highly-reputed publication.
Never say never
So a 'rupture situation' is a time to regroup, to think about how to get back in the saddle. And let's be aware that nothing is ever like in the past, since society is advancing ever faster. We must free ourselves from old dogmas and be able to reinvent ourselves.
Each of us has characteristics that we can improve and develop. At the formal level, it can mean complementary training, post-graduate and other. What's important is the capacity to rediscover ourselves through self-knowledge and to restructure when circumstances demand.
This takes lucid self-analysis, seeing what on our profile we have to explore and then restructuring, rebuilding or reinforcing it with the new (or underlying) competencies we have discovered in ourselves.
The easiest and most direct example is that of someone who wants to evolve into leadership, but who trained in technology or science. Armed with a degree in biology, Dinis took up a clinical research role in a pharmaceutical company. Seeking a managerial position he invested in a prestigious MBA. It was worth the effort. Dinis was in demand. However, he chose to start again, accepting an offer at a strategic consulting firm specializing in the sciences. Today, he is a Partner in the firm, and professionally fulfilled.
Time to decide
Making a decision is difficult - simultaneously choosing one preference and rejecting another. Often we just don't find the courage. It's so much easier to remain in limbo and let other people or the passage of time decide for us.
The fear of facing an error resulting from a bad decision arises with greater or lesser intensity. No wonder the temptation to simply not decide comes up so frequently. Especially in the world of professional decisions. I even admit that the higher our awareness of our actions, the harder it is to decide.
I find that the greater a person's capacity for human and social integration, the more likely they will be able to make individual, authentic, and conscientious decisions. The essential thing is to think for ourselves, be ourselves and respect our individuality, even if we cannot not disregard the circumstances that surround us.
Preparing ourselves to be able to decide is to learn to face the insecurity of the unknown. Being able to take the risk of choosing.
How? Amrop's global study 'Stepping Up to Wise Decision-Making' sets out some ways to maximize the chances of a sustainable decision (and indeed, help us face the intimidating gap of the unknown). Here is a recap.
1 - Using our rear-view mirror. 
Leaders who examine and reflect on their experience will likely create opportunities to strengthen their core capabilities whilst acknowledging their limitations and potential biases.[i] These insights from the past (via experiences) and being more mindful (about experiencing) can fuel a broader perspective and lead to wiser decisions.
2 - Managing our bias. 
We all develop unconscious routines or heuristics to cope with complexity, especially when data are scarce. Whilst these 'rules of thumb,' may be useful, they are not foolproof. 'Outsmart Your Own Bias' by the writers Soll, Milkman and Payne, appeared in the Harvard Business Review in 2015[ii]. The authos give invaluable guidance on checks and balances that will help you 'engineer' a decision that is likely to play out well once executed (you can find these and more in our study).
Possibly the most important hygiene is to work through several scenarios. To write down the list of likely consequences resulting from the possible paths you have in mind. You'll be able to see more clearly the results of several hypotheses, and focus on what fits your objectives best.
3 - Involving stakeholders. 
It is for each of us to decide how high we set the consultation bar in the challenging process of decision-making. Reflecting on the complexity and stakes can help set the process, reduce risk and heighten sustainability. This implies drawing on experience, as stated. Yet only around a third of leaders systematically choose the people they involve on the basis of their knowledge/competencies, or interview selected top executives one-on-one. And only a quarter involve different stakeholder groups. Under one in ten voluntarily involves 'difficult' people who will likely raise blocking or delaying questions. And yet it is these 'devil's advocates' who can be the most invaluable.
Despite our best efforts, we may not be able to avoid error, since decisions often involve so many stimuli and circumstances outside our control that we may no longer fully dominate any final outcome. Yet dealing with error is also an act of learning. And we must know how to find the self-esteem that allows us to accept a mistake we have made, without destroying us.
With resilience, generosity toward ourselves, we can begin to accept ourselves after we make a mistake, without feeling sorry for ourselves, and without beating ourselves up.
Credits
This article series is adapted from the original book, 'Eu Sou o Meu Maior Projecto', (Maria da Glória Ribeiro, Manuscrito Editora, 2016).
--------------------------------
[i] Sunstein, C.R. & R. Hastie, (2015), Wiser. Getting beyond Groupthink to Make Groups Wiser, Boston, Harvard Business Review Press
[ii] Soll, J.B .; Milkkan, K.L. & J.W. Payne, (2015), "Outsmart Your Own Biases", Harvard Business Review, May;