The Amrop Digital Interviews: Oana Ciornei, Romania
"At Amrop we are entrepreneurs too"
Oana Ciornei is the Managing Partner at Amrop's Romania office, a member of the Global Board and a member of Amrop's Global Digital Practice.
We spoke to her about her unique professional background, the structures she's introduced within the organization and what it takes for a company to have a successful digital transformation.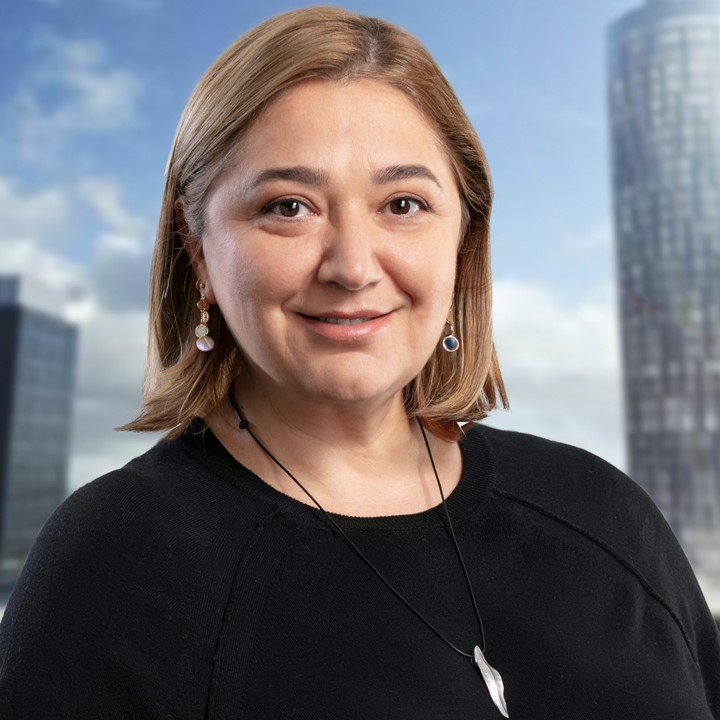 Q: Oana, before we discuss your journey within Amrop, could you talk a little about your professional experience prior to joining the firm and how it's helped you shape your career with the company?
A: Tech has always been my passion and I was lucky to have a chance to work in this field since the very start. I graduated from the university with a degree in computer science and was lucky to be hired right afterwards by Coca Cola Hellenic, the world's third-largest Coca-Cola anchor bottler. I built my career up starting from the trainee manager position to the country IT director, after which I worked for the whole group in strategy program management for large tech projects in 26 countries. This was a great role, and in it I, along with my team, managed to implement at the time some projects, which were large in time, scope, and budget, such as SAP implementation in 26 countries, creation of an IT Shared Service Centre, Supply Chain optimization project, Balance Scorecard and more.
And then, while working on those tech projects, I discovered the HR area, which immediately appealed to me. We started an HR pilot program for six countries, and, though at the time I oversaw capturing the synergies and looking at processes, looking for continuous improvement and transformation of the function – I fell in love. I did a career shift and moved to the HR department in the same company; first I worked in a role in Romania, then – in a regional role.
Q: What attracted you so strongly to the HR field?
A: One of my projects in Coca Cola Hellenic was the creation of a shared service centre of IT function for 26 countries, and this, along with my other projects, made me realize that you cannot do anything without a highly motivated and effective team. At the same time, I had always believed that if you're able to create a team, which is motivated, determined, positive and which has a good culture, then you can also "infect" the organization, no matter what. In Romania we have this saying "You cannot create a spring with a single bird", but I have always believed the opposite to be true. (laughs) I switched to the HR, because I believe that the people and the "machine" should naturally work together; moreover, the "machine", including all the automations which get introduced in organizations, should work for the people. Technology will continue to disrupt what we do, or better said, it will continue to improve what we do and let us focused on the right things.
Q: What came next for you career-wise?
A: I joined Korn Ferry in Romania in 2006 as a Partner and COO. I worked for them for three years until they decided to exit the Romanian market during the previous financial crisis. At that moment I decided that rather than working for a Romanian company I'd better create my own! So, I launched an executive search start-up in a very competitive environment – and within seven years we, as a team, went from a start-up to market leader! Amrop approached me after we'd been operating for less than a year.
Q: What made the business so successful that fast?
A: What, I believe, really helped me and is still helping me to this day, is the fact that I had previously been in a top managerial position in a very complex, dynamic, and multicultural environment. I'm also very determined to get things done and very passioned about learning new things. To put it simply – I'm very curious and I can really understand what needs to be done at our clients' organizations. I was involved in many tech-related transformation projects, so, naturally, I had to be good at understanding work processes. But KPIs and processes are dead documents unless the people bring them alive.
Besides, in Romania after the fall of communism we didn't have a lot of legacy systems, which are common in the Western countries. So, if we look at the processes more generally, what was happening in Romania back then, is pretty much the same as with the digitalization that is happening to all of us now. At that time, without the legacy systems, we started creating an ecosystem of applications, and then from hundreds, literally, from hundreds of applications we moved to the centralization of processes, whereas now the entire world is moving from a central system to an ecosystem.
So, this was an experience which really helped me understand how to deal with those types of integration, how to scale, how to work with businesspeople… at that time we didn't yet call them "product owners" but the role was the same. It really was agility in action – it is a buzzword now, but, really, agility is not new. People with tech background like me, we started using this approach immediately after the Agile Manifesto was published.
Q: What does your path within Amrop look like at a glance? You've been working mainly with clients from digital and technology sectors from day one, right?
A: When I started out, I already knew how to link business strategy to individual and organizational objectives; and this helped me, while running a start-up, to create a very solid business plan. In the first years we focused fully execution – and the execution was flawless. It's true that digital and tech was always on my agenda due to my background. I've always enjoyed working with technology companies, which were scaling up and growing fast, because, in fact, we've been doing the same thing. At Amrop we are entrepreneurs too, thus we are able to understand how our clients look at their businesses. We are focussed on growth and positioning, just as they are, so we are in a very good position in terms of understanding their needs.
In terms of sub-sector expertise, I have the largest number of searches at Amrop executed in Telecom industry, media and entertainment, and I'm working with a lot of software development and gaming companies too. I've always been a member of the Amrop's Global Digital Practice, and almost two years ago I joined Amrop's Global Board. I'm responsible for all the Digital and Innovation initiatives within our organization, and I've developed together with my colleagues all over the world various projects, such as Explorers, Amrop University, new platforms and systems, strategic partnerships etc.
Q: What are the Explorers?
A: The Explorers is an internal project, where we work with Amrop's young researchers and consultants – the program is open to everyone except partners, and within it we are looking at different scenarios: "what is", "what's next", and "what if". Within "what is" we are looking at improving certain processes and practices within our organization, while with "what if" we are looking at various new opportunities; within "what's next" we are looking at some real problems our clients are facing, and we are trying to see how we can adjust our offer to respond to their future need.
It is essentially an educational programme with very clear deliverables, where they learn how agility can be applied in our context, how they should organize as a self-managed team and how to add value into our business. The end goal with this program is to create a kind of "shadow board" for us and to have a young team doing reverse mentoring for the senior Partners in Amrop.
Q: You also mentioned Amrop University. What is that?
A: Amrop University is a learning and development initiative in our organization; we have created an internal L&D strategy for how we will keep developing ourselves as executive search professionals. Within this initiative we keep up with new trends and developments, innovation techniques, we've also worked with Hyper Island, which is a digital creative business school that specializes in industry training using digital technology and with IMD Business School
These initiatives matter to me a lot because I strongly believe that continuous, lifelong learning is key. This is something we're doing for our organization as whole because I also believe that talent nowadays is not staying with one individual. The only thing that will help us in the future is our learning agility – how we look at continuous development.
Q: What qualities, in your view, are essential for leadership positions in the digital sector in current environment? What characterizes the executive search process for the digital sector?
A: The Amrop's Global Digital Practice has developed a Digital Competence Model, and an Amrop Digital Index. We have already defined the levels for each competence, an interview guide, a toolkit included in all our Tech searches, which provides an excellent reference for Amrop's specialists.
I'm also doing various regional and global searches with partners from other Amrop offices, so it's clear that it is a global challenge for companies to identify and hire people with entrepreneurial spirit. And it is a key element, because without it you cannot really do a transformation. It is also very important for a digital leader to understand how to create value from digitization – and here I'm talking not only about value for the company, but also human and social value – because the world is changing.
It is difficult to challenge industry norms, but if you're not doing it in the digital domain, you will not be coming up with new business models, new revenue streams; and you will not be able to drive those initiatives if you don't have a good strategy for employee engagement and experience. "Digital" to me merges two functions – the "old" IT and the new HR. The way I see it, "digital" is, in fact, very closely related to the kind of culture that you have in the organization, because it's equal to "transparency". It is like living in a house with glass walls: you cannot hide in the "digital" because if you're doing something and you're not doing it right, a young consumer/client with the power of a mobile phone in his hands can damage your business. So, it's all about transparency, care and trust. And if you won't put the focus on those dimensions, you will never create anything sustainable.
As for finding the right person, I'm quite happy to occasionally pick the "wild card". The "wild card" is a person, who is able to do 60-70% of the job but has a huge potential. Yes, we strongly believe that past performance predicts future performance, but potential now is the new norm; and if you find someone who is less familiar with the industry and not a 100% fit for the role from the start, they will, nevertheless, look at the job from a different angle. Of course, the first six months will be hard – for the organization, for the team, for the individual herself. But then, because they have a different viewpoint and lack the "we've always done it this way" factor, they will start asking questions like "why are we doing this?" – and this is now very valuable. This is how a company can spot opportunities that others aren't able to see it.
Q: What are the benefits of the being part of Amrop's Global Digital Practice? Has your colleagues' expertise in the sector come handy and are there any other benefits?
A: We are a fully integrated group with a defined list of competencies/area of specialization for each member – so we all know who's especially good at what. Since we have also identified subsectors, we're able to help even the branches without a specialized digital partner, if necessary. We are a highly collaborative organization and we managed during the years to develop strong areas of expertise and meaningful relationships.
We are also working together to help other offices to recruit new digital partners, and for this purpose we used the Design Thinking to create a "persona" – how a successful Partner with digital competencies looks like, what are the goals, what are the frictions, needs and objectives.
Q: Could you share one of your most successful recent client search projects in the digital/tech sectors and talk a bit about what made it so?
I'm currently working closely with our office in Middle East – I'm supporting them in recruiting a CIO for the largest retailer in the region. I've been involved in the full business development cycle, covering the execution of the project for Europe, while the local team focused on the Middle East and Asia region.
Locally, we have successful partnerships with three companies in the tech field where during the years we managed to place almost the entire executive team and other Director level positions in the organizations. Gaining their trust, evolving together with their businesses is highly motivational and seeing our placed candidates being promoted after 2-3 years is highly rewarding. It is the ultimate measure of a high-quality work.
I think it's not a coincidence and I don't think this applies only to Amrop Romania – we're not a company which is only looking for good managers, great leaders; we are going the extra mile. I think we always look for people who are entrepreneurial just like us – and that's what it means to be the "leader for what's next". There is a lot of growth mindset and entrepreneurial DNA, it's about building exceptional teams and leave a legacy. So, when we're engaging with a client, we're part of their organization: we don't even say "the client did that", rather "we did that". We have skin in the game – and we have lots of fun!
Q: Do you have any advice for your candidates?
We live in times when everything is accelerating, and the place where you are is extremely important. Stay curious, put yourself in situations where you do not have the answers, engage with as much diversity as you can and train your resilience daily. Be a Leader for What's Next!