CIO Day: Insights & Take-aways
2022's CIO Day, which took place on October 11 and centred around the theme "Dutch Design", marked the 18th edition of the annual networking event for the top executives from the demand side of the multi-billion-euro IT market. The event gathered more than 700 CIO, IT VPs, and IT Directors, while Amrop Netherlands once again took part as a Gold Partner with the participation of Job Voorhoeve, Amrop's Global Digital Practice leader.
We talked to Job after the event and asked him to share his key learnings from conversations with C-suite and Board-level tech leaders who took part in the event.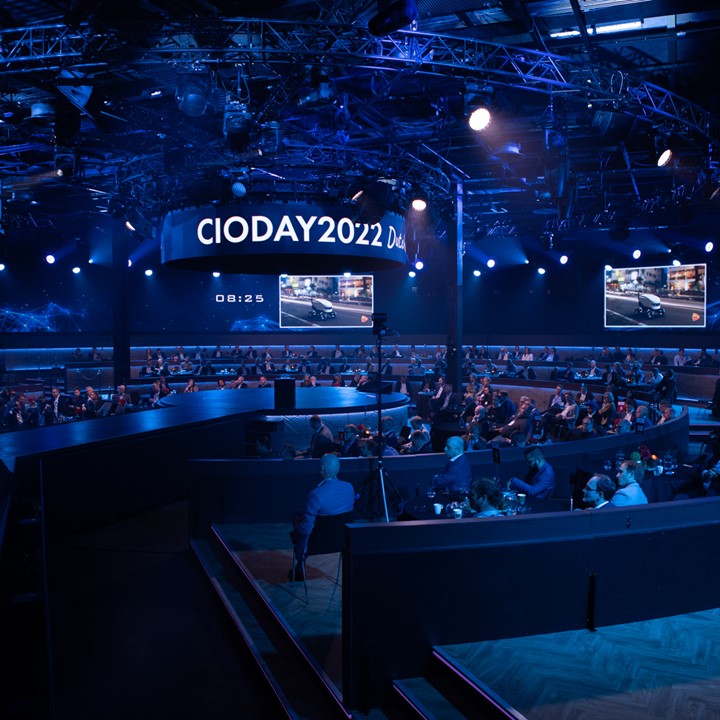 Q: What was your overall impression of the event?
A: It was yet another excellent event, which it is always exciting and beneficial to attend as a representative of Amrop and the Global Digital practice. It is a chance for me to meet CIOs from the Dutch market, as well as those we've placed – it's good to see them in their own settings, to continue to build relationships with them and talk about where the role of CIO/CTO is going. It is crucial to get insights as it also helps us as their executive search partners to get a better picture of the competency itself – of the future CIO which we are and will be looking for.
I had a chance to share and discuss Amrop's Digitization on Boards report, which examines digitization through the eyes of digital leaders from High and Low Performing Organizations – I introduced key CIOs with the ideas and conclusions we've drawn in this report, and it was well received: the participants were interested in the competency model we have developed and the differences between high-performing and low-performing organization and the role of the CIO in that.
Before you talk about the way in which the main theme – "Dutch Design" links to technological and digital developments, what is your take on the winners of this year's awards?
There were winners in two categories – the "CIO of the Year '' and "Tech Hero". The "CIO of the Year" award was won by Rob Visser, the CIO of the NN Group, an insurance company, which, through the efforts of Visser, has emerged as an InsurTech, where technological innovations are used to improve the efficiency of the player in the industry.
The "Tech Hero" title was won by Daniel Gebler, the Co-Founder and Chief Technology Officer at Picnic, the Dutch online supermarket, which is revolutionising the online food shopping sector in the Netherlands and is already becoming international, as it expands in the German and Belgian markets. Picnic nods to the concept of a milkman coming to your door to deliver milk in the old days – they've taken it and developed a modern and unique retail delivery concept, based purely on technology. I believe that Picnic is something for the community to watch – they're really on to something and they're growing rapidly.
Q: It is said that the Dutch approach to creating, and designing is renowned. It is a way of looking at problems differently, and arriving at different, often better solutions. How does the history and different outlets of the Dutch Design link to modern technology and its dynamic nature?
A: It was discussed and demonstrated with various interesting and relevant examples how the key concepts of Dutch Design relate to and are used in technological development and scaling in organizations today. If we look at art, for example, like the works and style of van Gogh and Mondrian who used minimalism and various techniques to intentionally simplify what they wanted to express, you can see that the same concepts and principles are also applied practically throughout our history. The way we deal with water, for example, is equally structurally simple, and that's also part of its beauty.
Another example that was used related to city planning. Nicholas Vasilius – the manager of Data Science & Engineering at DAF Trucks NV asked us to consider the city plan of New York. The colony of New Amsterdam was established by the Dutch West India Company in 1624 and grew to encompass all of present-day New York City and parts of Long Island, Connecticut and New Jersey; the name of the city was later changed to New York. The infrastructure that helped define the New York City was based on the city planning of Amsterdam; from the very start it was built in such a way as to allow for further development – they planned far ahead as they expected growth, but the arrangement of the city is actually very simple, and the simplicity is at the core of its success.
And that's the principle of great architecture – you need to have simplicity in order to be able to build a foundation on which you can scale; the exact same thing is true of technology. In technology too you must keep it simple, so that you could then scale. But if what you create is too complex, the resulting spaghetti causes a problem – it's unscalable, so simplicity is at the core of art, design, and technology, which we can see through the ages.
A presentation on the value of light was given by Tom Borsboom – the head of lighting and design at Signify, the Dutch multinational lighting company. He talked about how technology allows for mixing colours in a unique way and how it can be used to manage light; how, with the help of light, different feelings can be entailed. A lot in this context can be learnt from gamification – if you look at games, a lot of light structures are used in their design to give impressions, create sensations and make the game appear more realistic.
Q: Are there any challenges that the industry is experiencing, changes it is undergoing, which affect all players?
A: A lot of attention was given to Environmental, Social, and Corporate governance (ESG) and our carbon footprint as companies – especially in the context of a new generation of talent coming into organizations and demanding that there is much more focus, and more attention is paid to environmental and social issues. Their attitude is that organizations must have both a vision and a policy around environmental issues, and they want to see activity towards it. This needs to be taken into account, as people management is becoming more and more important in tech teams. Companies need to invest in their environmental policies, because a great job position, the opportunity to learn and work with exciting technology is no longer going to be enough for the younger generation.